Interview with Kate Mothes , YoungSpace.com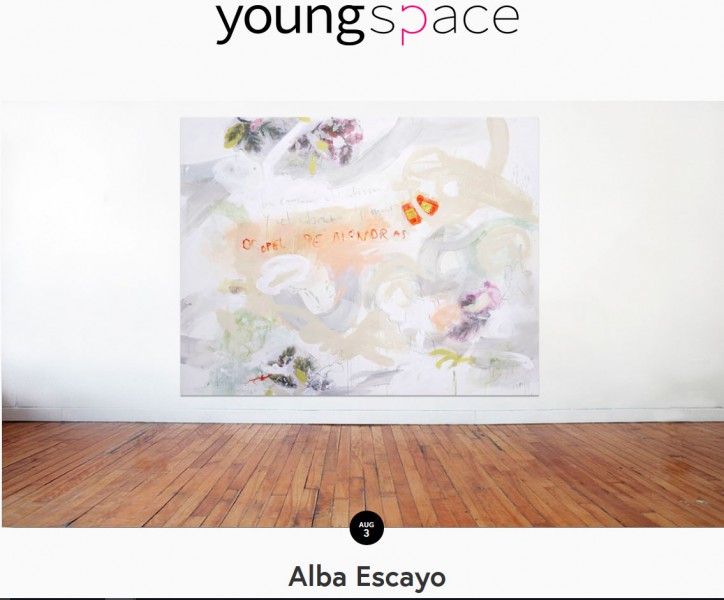 Check out more !  http://www.young-space.com/blog/2017/8/alba-escayo
Alba Escayo's gorgeous palette and textures evoke the seaside and her native Spain, as well as travels throughout Europe. I'm so happy to share this wonderful interview here! More at the links below!
+ + +
I'd love to know a bit about you! Where are you from originally, and where are you based now?
I'm from the north of Spain, from the beautiful Asturias on the seaside. I studied fine arts in Madrid, and after that I had been traveling, attending artist residencies and living and studyingabroad in Italy and Serbia. Now I have made a base in Aranjuez… it´s small, beautiful city near Madrid with astonishing gardens that inspired the famous Aranjuez concert . Life is quiet here, so from time to time I need to go far away 🙂 In the near future I would like to work in a project in order to invite international artists to stay here .
When did you first discover art, or realize that you wanted to make it yourself?
Since I was a child, I was all day long drawing . My family was always very supportive with art and many friends of the family were artists. No matter that I thought I wanted to be a biologist. Then I realized that I liked too much the drawings in the illustrated books, and that the part of the biology that I liked was to observe nature and to draw it. Nature is still today my main inspiration.
You currently teach in Belgrade? How has that experience been so far, especially as it relates to your own practice?
I wasn't teaching in Belgrade (a least not art, I did Spanish lessons to survive); I was studying at faculty of Fine Arts some sort of masters in painting. Faculty is quite different than in Spain or Italy. I had my own space/studio and professors were visiting you once a week to see the progress in your work. They give me a lot of freedom and support. I was lucky with professors and I had the best companions. Life in Belgrade is wonderful, alive, messy, noisy, funny. So inspiring! I started there a series of landscapes and I think that definitely defined the kind of painting that I wanted to do.
Nowadays I do teach art. I usually do special workshops or masterclasses abroad. For me this is a great exchange of experiences, where I learn a lot  from my students. I have had unforgettable moments, especially with children and with very old people. I do it just from time to time because it requires a lot of energy.
Much of your work references places you have been or experienced, and emphasize details about the history and culture of a place. How did you become interested in this theme? What do you like most about it?
I guess I have a terrible curiosity. I like to get lost in places and open my eyes, see little things, share time with locals, smell, eat, collect little things, hear stories, music… Is this thing … when what is ordinary life for them becomes extraordinary for the foreign visitor. My work sometimes has direct references about the places where I have been, but sometimes the relationship is more subtle, it´s abo ut new materials, new techniques, new colors or just new ideas. I truly believe it is so important to balance the time in the studio with the time outside exploring to keep fluid the creation process.
What is your process like?
I usually work on series and I usually work a few pieces at the same time. There are no rules, each work has different needs, but it's true that I try to not overwork on the pieces. I spend a lot of time preparing the canvas. I spend time in the studio reading, listening music, drawing or …walking around….and looking to the paintings. I usually don´t work a lot on one painting the same day, but the moment when I paint it´s precious and decisive. It requires a lot of concentration. This dialogue with the painting maybe will last weeks and sometimes months .
Yes I do research. I collect things, images connected with the subject, I try color palettes, new materials…. Recently I´m very interested on old printed images, poetry and the interferences between both.
In my paintings you can find some simbols and references across the years that are links between one series and other.
What is your studio or workspace like?
My studio today is a big garage of white bricks with a great yard outside. My only neighbour is an upholsterer who likes rock. I try to keep it tidy… but that just never happens if I´m working…  when I paint I do make a big mess. Indeed if it´s going well, and I´m painting intensively, everything is all around. I like to work with many different materials and to have them close. I do combine working in horizontal on the floor very fluid layers and later on hanging the canvas on the wall. When the weather is nice I like to work outside. I have images on the wall just near the drawing table: a sketch of something, a photo that has a good color palette, a found feather, a postcard…
I also have many unusual brushes all around , I especially like handmade natural fiber brooms …they are my favourite souvenirs, sometimes not so easy to fit in a luggage.
Is there any advice that you regularly give your students, or have you received any that you really value? Have you even received advice that you're glad you chose to ignore?
Yes, there is. It really works for me: "less is more." I don´t follow it as much as I would like to during the process, but still it is there… and it helps. In general many philosophical values that I learn from asiatic cultures helps me on my creation process.
I always would recommendto work in collaboration with other artists; each time I faced a work-together with other colleague is when I have learned invaluable lessons.
About what I had ignored….. maybe I'm happy that I had ignored the commonobsession of my generation of Spanish painters to make realistic or hyperrealistic art… it really doesn't appeal to me.
What do you need or value most as an artist?
I think the answer is time. I need time alone in the studio every day, time for creation. In our days I feel like artists needs to take care of many things that are not artists' work…  trading, promoting their art, social media, exhibiting ….and all the stuff that a good gallerist should do. I value a lot when a gallery or art center does their job well and I have time for painting. I would add also about time… thatit's so amazing when somebody takes time in looking at your painting. I don´t need words that much… I love when a viewer spends time on my painting.
What do you feel is the most challenging or daunting thing about pursuing art, either creatively or professionally?
Creatively, it is challenging for me to connect my work with the previous one and with the next one. To keep telling your story.
Professionally, it is hard sometimes to survive economically just from art. "Juggling" everyday is part of the deal if you want to be artist.
What are you working on right now?
I just come back from Georgia (Europe) where I had an exhibition. I think I have brought back strong colors, contrasts, and so good memories. Currently I'm working on a series of large abstract paintings and listening a lot of Jazz. Recently I'm experimenting with transfers, and I have an interesting collection of found old postcards from this country, so let´s see what will happen.
Anything else you would like to add?
Yes!!! I'm a new mom 🙂 My daughter is just one year old, and she has come to studio since she was just few weeks old. Of course sometimes is not possible because of materials, but she is my best inspiration. I feel like a stronger and better painter since she is here. Just a cheer-up for those female painters who wants to be mothers.
Find more at albaescayo.com and on Instagram @escayo!
+ + +
Like what you see? As an independent curatorial platform, this project can use your help! Pledge your support with a one-time donation. Check out current opportunities to get involved here!